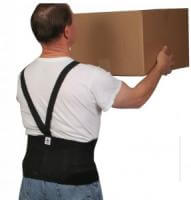 Industrial Belt
$70.00
CoreBak Industrial, with suspenders
Elastic Industrial Back Support Belt
Double side pulls and closures offer strong support to lumbar region. Provides abdominal compression critical to the lower back, reducing the risk of strain or injury.
Provides comfort and relief to both the lumbar and sacral areas. Acts as a reminder to use proper lifting techniques.
Breathable fabric provides cool and comfortable wear.
Flexible stays allow for repetitive use and support.
Comes with removable safety suspenders.
Waist Measurement (in CM)
Small : 56 – 63.5cm
Med : 66 – 79cm
Large : 81 – 94cm
XL : 96.5 – 109cm
XXL : 109 – 122cm
Only logged in customers who have purchased this product may leave a review.