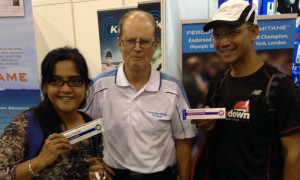 Mr. Warwick Lightbourne
Long distance runner and naturopath
Warwick Lightbourne is also a former coach and

sub 2-20 marathon runner

, training up to 200km a week.

Inventor of the Percutane and Traumitane Arnica Rubs

June 2015 – Clinical Technologies is partnered with the New Zealand Arthritis Association for their Percutane and Traumitane rubs. Percutane and Traumitane contain arnica which is known to help with juvenile arthritis.


I have developed, used and personally guarantee every product we manufacture

Race Profile
Major Races – 1st Sydney Marathon, 6th Sydney City to surf, 1st Gosford to Terrigul Road Race, 1st Aust Teams Road Race Melbourne, 1st Blacktown Giant Jog Road Race, 1st Paeroa to Thames 21mile Road race, 4th Christchurch Marathon, 1st Auckland Round The Bays Road Race, 1st Waitemata 1/2 Marathon.

Coaching Profile
Coach of – Helen Moros – 3rd Los Angeles + Chicago Marathon, 1st Citrus Bowl 1/2 Marathon Florida, N.Z. Marathon Champion, Commonwealth Games Marathon, Phil Hill 1st AK 800 track, AGS 1500 record, Warrick Brenan 3 x winner Rarotonga 32k road race, 2nd Junior AK cross country, Antony Gardener Junior NZ road champ, Dale Warrendar – NZ Road Champion, Erin Christie – NZ Triathlon Champion, 1st Foster Aust Iron man, 4th Commonwealth Games Triathlon, Grant Schofield – 8th Mount 1/2 Ironman, 2nd NZ Ironman, Rob Astley – NZ Junior 1500 Track, 2nd NZ junior 800 Track, Richard Wagner – 1st NZ Duathlon Championship, 3rd NZ Triathlon Championship.
---
With Fabian Williams | Altitude Fitness Gym | Aileron Wellness Gym