Atromick Anaesthesia Cart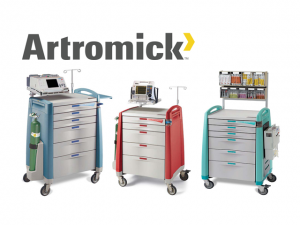 Atromick Cart Series (U.S.A.)
Anaesthesia Cart
The Artromick Series Standard Anesthesia Cart is designed with a synergy of function and technology to meet the unique needs of your anesthesia department. A flexible divider system, removable drawer trays, and a host of organizer accessories neatly arrange the medications and all related supply items.
Standard 10-High Emergency Cart
The original model size offers enormous capacity and plenty of drawer space for storage of equipment and supplies.

Intermediate 9-High Emergency Cart
Plenty of capacity and storage at a lower profile than the 10-High Standard model.

Compact 8-High Emergency Cart
Perfectly meets the unique requirements for a lower work surface and maintains sufficient storage for most applications.
Optional Locking Features
a) Quick-Access Lock for Emergency Crash Carts
Artromick Series Emergency Cart's unique breakaway locking handle is standard on every model, offers the security you require and ensures quick access to code cart supplies. With a simple and swift motion, you can quickly break the tamper-evident seal and gain access to all drawers.
b) Standard Key Access with Manual Relocking
Featuring a core removable Lock System, this basic yet proven lock system provides your medication cart advanced security and the flexibility to change keys simply and easily.
c) Keyless Access with Manual Relocking (the Progress recommendation)
Simply enter a 4-digit access code, push down the lock lever, and the cart is ready for access. To secure the medication cart, simply push in the lock lever. Clear visual indication of lock status is apparent from a distance.
d) Keyless with Autolock
AutoLock™ for automatically relocking motionless carts after a specified period of time
Multiple user access with different access rights based on job function and authorization
Override code to permit pharmacy restocking
LED battery status indicator