Needleless Acupuncture Set (ACUSET)
$126.30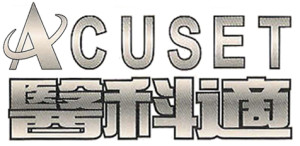 Relieve Muscle Fatigue and Ache using Acupuncture's principles to achieve satisfactory results
| | | | |
| --- | --- | --- | --- |
| LOWER BACK | ELBOWS | SHOULDERS | CALVES |
 Based on the Chinese Physician's Theory : 'Qi' is associated with blood circulation.
Better control of 'Qi' will promote better circulation of the blood in the body. Acuset 2000 is without needles but its patting can penetrate and massage pressure points on the body giving fast and effective relief to stiff neck, shoulders, backache and muscle fatigue. In this way, 'Qi' is set in motion and helps alleviate ache and stiffness.
Acuset is mini in size but effective in application.
Functions of Needleless AcupunctureTo be applied on collateral channels and acupoints for treating of various body problems.

Safety cut off :- Automatically switches off after 15 minutes.

Booster function :- aids in internalising the 'patting' for a fuller, more wholesome treatment.

Adjustable from a strength of 1 – 10. By adjusting the strength of the pulses, You decide what feels best.

Treatment : Mimicry of needles for deeper penetration to target and stimulate veins thus improving blood circulation.