Porta Potti Excellence

Porta Potti Excellence (Manual)
Porta Potti Campa Excellence (Battery)
The Porta Potti Excellence has by far the most striking design and innovative features of all.
For those who seek luxury and high-quality during leisure time, or looking for a solution at home during renovations or simply as a second toilet, why not consider this jewel amongst portable toilets.
Features
Integrated toilet paper holder
Flush-water level indicator
Cover controls (for piston pump, water fill cap, water level indication)
Water fill adaptor
Improved carry handle of the water tank
Including free 150 ml Aqua Kem Green + 150 ml Aqua Rinse
Benefits
Modern design, more homelike toilet shape
Comfortable seating height (440 mm)
Bigger bowl size, mainly in depth and width
User friendly valve handle at side
Specifications
Waste tank capacity: 21L  | Flush water tank capacity: 15L
Dimensions: 448 x 388 x 450 mm (H x W x D)
Toilet weight
a) Manual version: 5.5 Kg
b) Battery version: 5.8 Kg (Campa Excellence)
Alloymed commodes are designed with safety and ease of use in mind.

NH10 – Fixed commode, no back rest, height raise feature * Discontinued
NH20 – Fixed commode with back rest, height raise feature
NH30 – Fixed commode with wheels *Discontinued
NH40 – Foldable commode
NH40L – Foldable commode, Aluminum
NH40D – Commode with swing away armrest *While Stocks Last
---
A wide range of designs are available for your discerning consideration of features including :
1. Height adjustment feature
2. Material of commode
3. Backrest
4. With or without castors
5. Type of seat
Comes with Bucket with Lid, Holder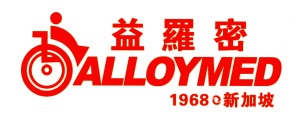 Alloymed 3-in-1 Shower range commodes are designed with safety and ease of use in mind.
500C Stainless steel (Black foam seat)
500SS Stainless steel (with white plastic seat)
500A Chrome Steel (with PVC foam seat)
NH41 HEIGHT ADJUSTABLE FOLDABLE STATIONARY COMMODE
NH30DK ALLOYMED S/STEEL MOBILE SHOWER COMMODE
500P Commode – Discontinued
---
A wide range of designs are available. Customers should consider variable designs which include :
1. Frame material to allow showering
2. Retractable or Detachable armrest / footrest
Includes Bucket with Lid, Handle
Only logged in customers who have purchased this product may leave a review.