Porta Potti

The world's leading freshwater flushing portable toilet incorporates Comfort, Convenience and Peace of mind features.
The Thetford Porta Potti is built from high-quality plastic which is durable and easy to clean
Unique Features
– All in one system! No external piping
– Powerful and instant flush
– All wastes are liquified, all odours removed
– Swivelling pour-out spout, splash free emptying
– Waste level indicator for its huge capacity, up to 21 litres!
– Snap lock system, simple and more secure
– Easy to clean, empty, carry…
Description
---
---
All Porta Potti feature natural seating height and a high capacity waste holding tank.
The 145 is suitable for Potty training with young children.
The 165 is an economical ADULT model as compared to the 365.
The 365 is a family size model with high capacity waste holding tank. An extremely popular model.
Sistem Tandas Mudah Alih
Tandas pam air tawar mudah alih yang terkemuka di dunia.
Menggabungkan ciri-ciri keselesaan dan kemudahan untuk ketenteraman fikiran.
Thetford Porta Potti dibina dari plastik bermutu tinggi yang kukuh, tahan lama dan mudah untuk dibersihkan.
Ciri-ciri Unik Porta Potti
Semuanya dalam satu sistem! Tidak perlu mengunakan paip luara
Berkuasa tinggi untuk pengepaman serta merta
Sisa buangan akan menjadi cecair dan bau-bauan akan hilang
Aliran pancutan berpusing, pembuangan isi kandungan yang tertip dan kemas
Petunjuk kadar sisa kandungan dan boleh menampung sehingga 21 liter isi kandugan
Sistem kunci pencangkup yang mudah dan lebih kukuh
Amat mudah untuk dibersihkan dan dibawa kemana-mana jua
Apa jua cara hidup pilihan anda…
Kegiatan luar
Untuk kegunaan pemilik bot, kem dan karavan
Kegunaan dalam rumah
Untuk pemulihan inkontinen
Alloymed commodes are designed with safety and ease of use in mind.

NH10 – Fixed commode, no back rest, height raise feature * Discontinued
NH20 – Fixed commode with back rest, height raise feature
NH30 – Fixed commode with wheels *Discontinued
NH40 – Foldable commode
NH40L – Foldable commode, Aluminum
NH40D – Commode with swing away armrest *While Stocks Last
---
A wide range of designs are available for your discerning consideration of features including :
1. Height adjustment feature
2. Material of commode
3. Backrest
4. With or without castors
5. Type of seat
Comes with Bucket with Lid, Holder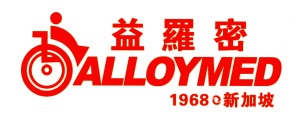 Alloymed 3-in-1 Shower range commodes are designed with safety and ease of use in mind.
500C Stainless steel (Black foam seat)
500SS Stainless steel (with white plastic seat)
500A Chrome Steel (with PVC foam seat)
NH41 HEIGHT ADJUSTABLE FOLDABLE STATIONARY COMMODE
NH30DK ALLOYMED S/STEEL MOBILE SHOWER COMMODE
500P Commode – Discontinued
---
A wide range of designs are available. Customers should consider variable designs which include :
1. Frame material to allow showering
2. Retractable or Detachable armrest / footrest
Includes Bucket with Lid, Handle
Only logged in customers who have purchased this product may leave a review.