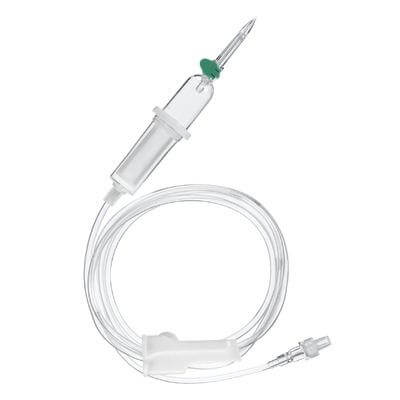 Sangofix Blood Set


Sangofix B
Blood administration set, non-vented for flexible blood bags
Sold in 1 carton of 10 pkt. Each pkt contains 10 pcs  | Not sold Loose.
Description
A set for the intravenous administration of blood and blood components.
The drip chamber is generally equipped with a standard blood filter of 200 µm to eliminate blood clots and cellular debris of storage from the infusing blood component. Gravity administration set suitable for 3 to 4 blood units.
Non-vented piercing spike. Blunt spike tip to avoid bag penetration
Fully transparent upper part of drip chamber allows quick drop rate check
Unique push ring for comfortable and secure gripping
Extended, detached drip element within drip chamber provides even drop formation; 20 drops = 1ml ± 0.1 ml (aqua dist.)
Elastic pump chamber for easy fluid level setting
Drip chamber with blood filter basket, pore size 200 µm, filter area 11 cm2, provides good flow rate while retaining larger particles
Drip chamber material PVC free
Advanced, precise roller clamp, good to control flow rate, comfortable to hold
Spike dock for secure spike discard. Housing colour "white"
Screw tight Luer Lock fitting to prevent accidental disconnection
Soft, clear PVC tubing with standard lumen 3 x 4.1 mm, standard length 150 cm (optionally 200 cm), DEHP free plasticizer with superior, well documented safety properties
Pressure resistant max. 400 mm Hg (0.5 bar)
Spike optionally with steel tip (for ozone therapy)
All design features in accordance with International Standard ISO 1135-4
(Transfusion sets for single use)
Only logged in customers who have purchased this product may leave a review.