Wheelchair Repair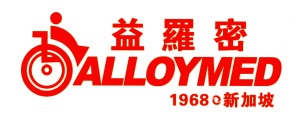 Alloymed Authorised Servicing Agent
Spare parts and servicing for Alloymed wheelchairs.
Please read the FAQ
Q : Will your spare parts fit my wheelchair?
Our wheelchair spare parts fit ALLOYMED wheelchairs.
Our parts may NOT fit other brands of wheelchairs.
Please bring your wheelchair to 345 Jalan Besar for assessment.
Q : What are your charges?
Servicing Alloymed brand of wheelchairs will NOT entail a service charge.
A labour fee of $21.40 – $32.10 is chargeable to other brands for time taken in assessment, labour and trial fitting.
This does NOT guarantee our parts will fit as there are multiple permutations to check for fit.
Q : How long will it take to fix a wheelchair?
Depending on the spare part stock available, the fastest turnaround is 2 – 5 hours.
For express turnaround, an urgency fee of $20.00 – $30.00 will be chargeable.
Q : How long will it take to change the rubber on the tyres?
We do NOT replace tyre parts alone and have to change the entire wheel assembly.
Please understand that changing the rubber alone takes more skill, time, and strength and yet the rubber may pop out again.
Q : Can we buy the parts instead and install it ourselves?
You will require additional tools like a socket wrench, new spare parts like bearings, washers and screws to fix whereas we can only provide the wheels.
Having those parts on hand, we will service your wheelchair more completely. Parts sold are not exchangeable nor refundable.
Q : Who can we turn to if Progress is unable to repair my wheelchair?
Although we have a wide range of spare parts, it takes experience, time and sometimes luck to be able to fix such issues.
Your wheelchair vendor from whom the purchase was made will be appropriate company to turn to.